Active Art Auctions
Sorry, no active auctions at this time.
Come back really soon !
Upcoming events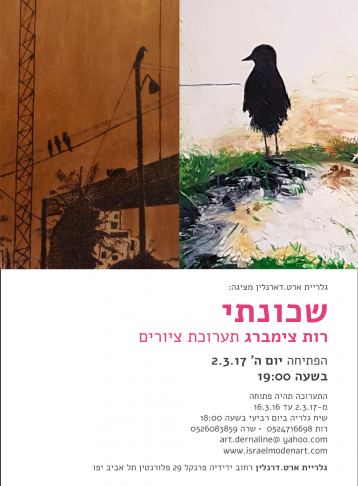 *** SAVE THE DATE! ***
Art'Drenaline Gallery presents "Shchunati" 
The new Ruth Rachel Cymberg solo exhibition
HaRav Yedidia Frenkel 29, Florentin, Tel Aviv
Opening: March...>
Press
Peut-être que son nom ne vous dira rien, ou peut-être que vous avez déjà croisé certaines de ses œuvres au détour de certaines communautés sans savoir qu'elles étaient d'elle. Et pourtant, l'artiste...
>
Au Commencement… Aleph – Bet – Guimel Lumière infinie, c'est le souffle divin, le cœur du monde. Dix paroles, une création, six jours. Aleph – Bet – Guimel « Bereshit », une parole silencieuse. « Au...
>
by Dan Groover Ce qu'il y a de magique avec la route, c'est que l'on dirait que c'est la même ; sans fin. Le début, c'est tout simplement lorsque l'on ouvre les yeux dessus et que l'on s'aperçoit qu'...
>