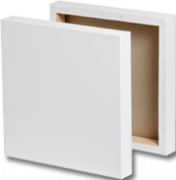 With its unique matte surface, the canvas gives your image a vibrant, tactile materiality and combines cozy charm with simple elegance. 
Museum-quality canvas. 
Tightened to a wooden frame. 
Signed by hand by the artist.
Ani leDodi ve Dodi Li
Calligraphy & Acrylic on Canvas
99 cm x 64 cm
"Ani leDodi veDodi Li" means "I am my beloved's and my beloved is mine" (Song of Solomon 6:3)

(אני לדודי ודודי לי" (שיר השירים"

ELUL = .אני לדודי ודודי לי = א.ל.ו.ל
Signed Artwork
The artwork is signed by the artist.
Certified Artwork
The artwork is sold with a certificate of authenticity.