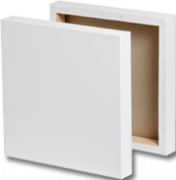 With its unique matte surface, the canvas gives your image a vibrant, tactile materiality and combines cozy charm with simple elegance. 
Museum-quality canvas. 
Tightened to a wooden frame. 
Signed by hand by the artist.
Express (Nefesh)
Calligraphy, Stencil & Acrylic on Canvas
110 cm x 90 cm
Stretched on Wood
It's about Passover (Pessa'h) - the man needs to remember the story, his story, to express himself
The painting was released in live during Passover Event in Chol haMoed 5777 (2017) at Jerusalem, for a Haggadah presentation with Kol haOt Association
Signed Artwork
The artwork is signed by the artist.
Certified Artwork
The artwork is sold with a certificate of authenticity.