Celebration of the 70th anniversary of  the independence of Israel (1948-2018).
Colorful and meaningful painting created by the artist Dan Groover.
The work is composed of different elements:
Famous heading: "The Palestine Post" (renamed The Jerusalem Post, after 1948) 

"State of Israel is Born" in 1948, right after the Declaration of Independence by Prime Minister David Ben Gurion

HaTikva lyrics - national Israeli anthem, surrounding the painting
The Israeli Map with its actual borders
And the national logo selected for this celebration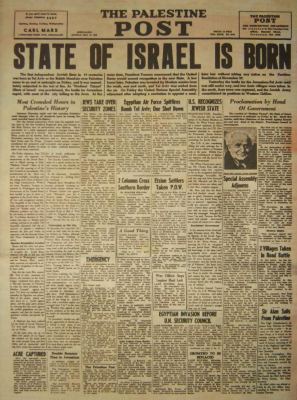 State of Israel is Born - 70 Years
Signed Artwork
The artwork is signed by the artist.