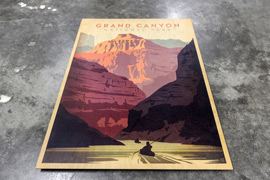 Printing on wood is a perfect option for those who love the elegance and durability of wood combined with the vibrant colors, with a vintage touch.
Signed by hand by the artist.
1948 - State of Israel is Born
Collage, Stencil, Acrylic & Spray on Wood
110 cm x 80 cm
Framed
1948, it's: 
- Year of birth of Abraham
- Year of the creation of the state of Israel
- 48 states of America in the first flag
- 18 (= Life) Maguen David on this flag instead of stars
Signed Artwork
The artwork is signed by the artist.
Certified Artwork
The artwork is sold with a certificate of authenticity.