*** Happy 50th Jerusalem Anniversary! ***
Come and enjoy from a special artistic evening for the 50th anniversary of the liberation of Jerusalem.
PROMOTION: - 30% ON ALL THE COLLECTION
### Special affordable art sale at Art & Music Gallery, Kikar Hamusica Jerusalem (Gallery: 02-5389978)
### Live painting & music by the Street Artist Dan Groover, Kikar Hamusica כיכר המוזיקה ירושלים (To reserve a table: 052 3060863)
Le Street Artiste Dan Groover se produira pour un Live Painting avec son ami le pianiste Achiya Asher Cohen-Alloro, le pianiste de Avraham Fried aux Etats-Unis entre-autre, le dimanche 25 juin sur la scène sur Kikar Hamusica de Jérusalem, et sponsorisé par la Art & Music Gallery de Elie Attal.
Dans ces applats de formes et de couleurs aux techniques résolument modernes qui mixent le pochoir et la bombe aérosol d'un support à l'autre tel la toile, le plexiglass, le métal, la toile de lin, le bois, le tissu ; l'artiste ne cesse de surprendre l'oeil du spectateur par ses couleurs vives qui passent de la fresque murale grand format à l'oeuvre d'art exposée dans les galeries à chacun de ses pages de Paris, aux îles caraïbéennes, New York, Jerusalem, Tel Aviv.
C'est par sa série "Yaldout" ("Enfance"), qui met en image les histoires que son père lui racontait enfant sur le Israël d'alors, la vie en Kibboutz, la guerre des Six Jours, Jérusalem, que Dan Groover a marqué de sa signature le Pop Art israélien en réactualisant des Ben Gurion, Golda Méïr, Rav Goren, des soldats israéliens revenant de la guerre du Liban 2006 ou encore ces trois fameux parachutistes emblèmes de la Jérusalem réunifiée devant le Kotel en 1967, en racontant l'histoire moderne et contemporaine d'Israël dans un style et une technique qui lui sont propres, tout en les inscrivant dans l'histoire intemporelle du peuple d'Israël.
Découvrez l'univers de l'artiste et de l'expression de Soul'Ame (N.-B. : "Soulam" en hébreu veut dire "Echelle").
"Soul'Ame" c'est la mise en sens par la peinture, la poèsie, la musique, la danse et toute forme libre d'expression artistique de nouvelles perspectives, de nouvelles sensations, c'est mettre en lumière ce qui semble caché à l'oeil nu, c'est voir au-delà de ce qu'il paraît, c'est de mettre en évidence que tout est uni, dans une même volonté.
Featuring


Pop Art & Street Art
Painters
Street Artists
Beyond The Walls
Today, Dan Groover's israeli art is a new vision. It combines a mix of bold street art and soulful messages. Pop Art - Street Art : Dan Groover is well known for his Pop and Street Art series, rich in colours and visual depiction of Iconic figures. These series were the natural transition from...
+61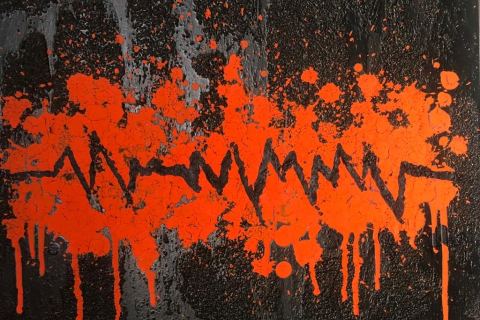 What you may have missed
Live Painting & Affordable Art Sale