Stencil, Caligraphy & Spray on Wood
92 cm x 70 cm
Framed
The name of this painting "Fame" is in reference of the mythic TV serie "Fame", at the famous school of Art Laguardia School.
In the 1990's the artist Dan Groover gave conferences about the Street Art at Laguardia School.
Fame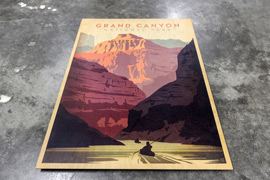 Printing on wood is a perfect option for those who love the elegance and durability of wood combined with the vibrant colors, with a vintage touch.
Signed by hand by the artist.
Signed Artwork
The artwork is signed by the artist.
Certified Artwork
The artwork is sold with a certificate of authenticity.